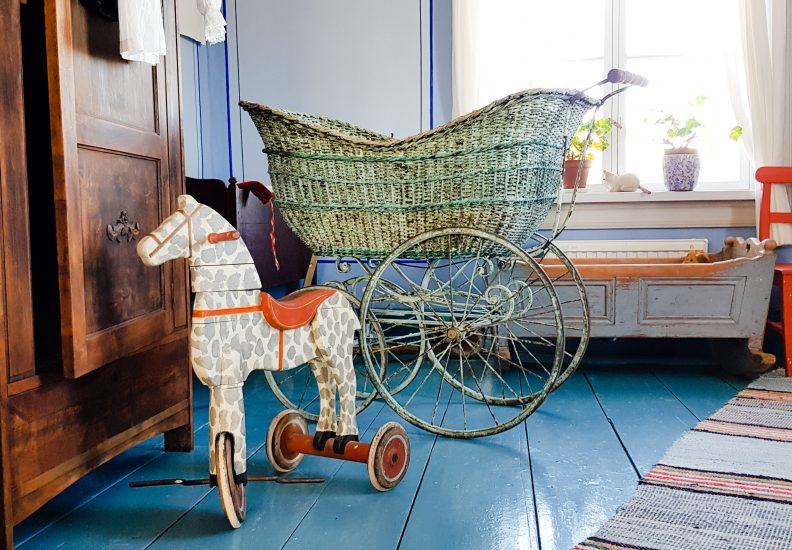 Nursery or north-westerly bedchamber
Most of the Pellas children were born in this bedchamber, including Pamela and Sven Eriksson's firstborn, who was named Sven-Cecilie after the Herzogin Cecilie. The last child born in this chamber was Linus and Mery Lindvall's son, Leif Lindvall. ...
Mery was Sven's sister and lived only a few hundred metres away from Pellas. The buggy was used to push baby Leif around. Many of the items in the nursery were saved from the fire, including a wardrobe, a mirrored chest of drawers, and a wooden crocodile, which was a souvenir from a voyage to Africa. The dowry chest belonged to Erika Kristina and was donated to Pellas after the fire. Meanwhile, the horse belonged to Erika's great-grandchild.
Though it was zero hour Pellas was quite awake. […] Ebba brought me that ceremonial drink, prinked out on a tray. The starched, embroided cloth, the porcelain cup, the glimmering silver spoon, the nucleus of sugar cubes, the tiny jug of cream, the variegated cluster of biscuits – though coffee was the last thing I wanted, for her sake, and the sake of the household  gods, I drank it. […] the lamps were extinguished, and Sven lay down on the sofa in the "stuga". It was the sofa we had made on that last voyage. […] "Österkammaren" where I lay, was a small room, with two double windows, and now I through these the moonbeams flooded in tangled reflections, filling every corner and banishing every shadow.  
Pamela Eriksson in her book The Duchess. The Life and Death of the Herzogin Cecilie.