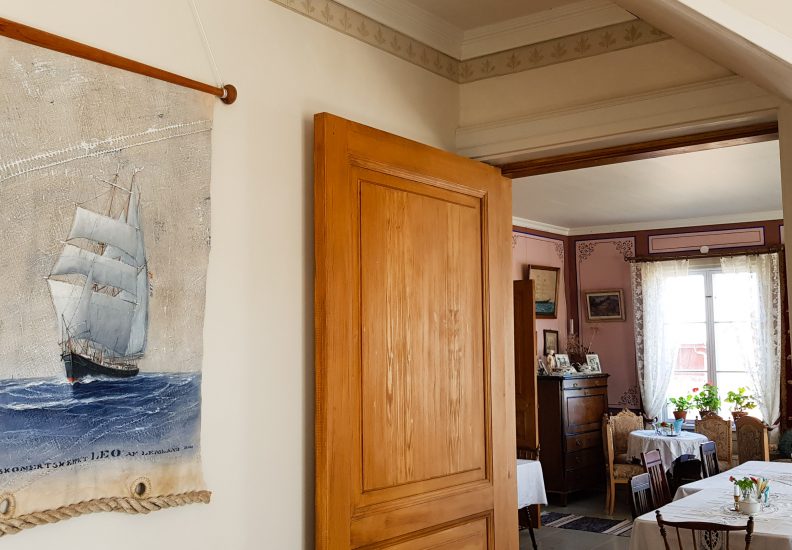 Welcome to the Shipmaster's Homestead Pellas!
Formerly, the main entrance on the road side was used only in the summertime and at parties. The present porch was originally very small and dark, and it had two rooms. ...
Today, as you enter the porch, you step into a big, bright room with stairs going up to an attic on the right side. The porch has entrances to the drawing room and the main room, which also serves as a café room. The small door leads into toilet facilities.
Pellas was likely the first house in Lemland to have a bathroom with cold and warm running water, a water closet, and a bath with lion claw feet. A person who had been to Pellas' water closet and "pulled the chain" was respected in the district. The small toilet in the hallway was not built until after the fire in 2005, and the entrance leading to the drawing room was moved to its original place. The following excerpt describes the bathroom, which was modern at the time, that Sven and Pamela built when they moved to the farm in the late 1930s.
Such a stir it was in the house, what with the alterations and the coming of Christmas, that one almost expected Erik and August to walk in and demand their dinner. Both of them would have been horrified at the blasting of bedrock beside the front door, where a septic tank had somehow to be inserted a metre below the surface to ensure against winter freezing. But finally, when the bathroom and water closet were a reality and we could sit enthroned without having our bottom frozen blue (which was the special quality of the commodious outside privy they had once been so proud of), I felt sure that they, too, would have rejoiced in this splendour for their beloved Pellas.
Pamela Eriksson in her book The Duchess: The Life and Death of the Herzogin Cecilie.