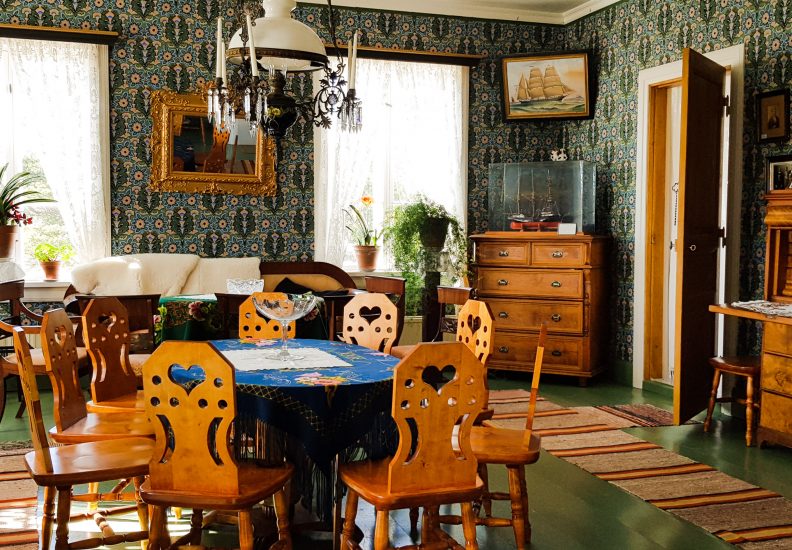 Drawing room
The drawing room was used at festive events, at parish catechetical meetings, and when ship owners' accounts were closed. Children were not allowed to be there, and during the wintertime, the room was kept closed due to coldness. In the explosion-like fire, the drawing room and all objects there were entirely destroyed. ...
The rare wallpaper was re-printed based on old photographs. In addition, the chairs – characteristic of Pellas with hearts in their backs – were remade after the fire. The clock cupboard, featuring simple decorative paintings and a clock in the middle, is from the neighbour house of Andersas. Above the escritoire are photographs of the Eriksson family. The top photograph shows Erik Petter and Brita Stina Eriksson, as well as their children, Erik August and Erika Kristina with their spouses and children.
The drawing room walls have photographs featuring Erik August with his spouse, Irene, and their children. Erik and Irene took on the stewardship of the farm after Erik Petter and Brita Stina did. Paintings of the schooners Åland and Wendla were at Pellas before the fire, after which they were restored. Luckily, these paintings survived the fire because they were placed somewhere else. The painting portraying the Avenir ship was brought to Pellas after the fire. The drawing room also has a harmonium, which was a typical object in a shipmaster's homestead, where sermons, Bible interpretation events, and services were often organised. Above the couch on the south wall is Elvi Henriksson's painting of the shipmaster's homestead Pellas.